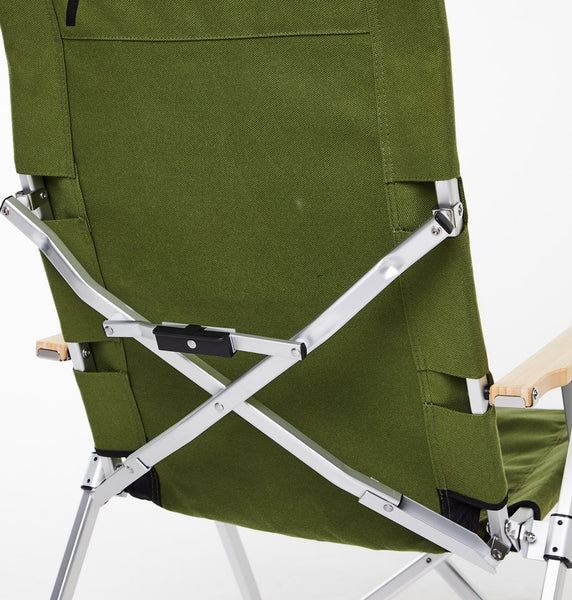 The ALL-DAY reclining Camp Chair features bamboo armrests, aluminium frame and a stylishly comfortable, durable 100% RPET canvas seat. 
The 3 stage recliner setting allows for maximum relaxation and optimal stargazing. Complete with RPET canvas travel bag. 
A camp chair made of 60 post consumer plastic bottles, strong, good looking and built to last generations. Activate the recline and feel suitably smug about your choices.
Available in Grey and Green.
- Collapsible aluminium chair in raw alloy finish
- RPET canvas seat and backrest
- Bamboo armrests
- Stainless steel hardware and fixings
- 3 stage recliner
- Strong Alloy Frame 120kg load
- Comes with RPET canvas fabric travel bag
- Made from 60 post consumer plastic bottles
100% RPET Canvas Fabric
Alloy Frame
Timber Handles
- Box Dimensions: H170mm x W245mm x D950mm
- Chair Dimensions:
H415mm (seat height)
H980mm (back height)
W490mm (seat width)
- Weight: 5Kg
All parcels are delivered Australia wide using Australia Post. Shipping costs are influenced by the size and weight of the goods and your location. Exact shipping costs are calculated in the shopping cart and will be added to the order total before checkout.
Free Shipping for orders over $375.
This whole product can be recycled and is made out of 100% RPET

Made from 60 plastic bottles
1% for the Planet
After-Life Program
Stratus Signature Guarantee
"Wow, are we pleased with these sturdy, earth loving, exceptionally designed chairs! Super comfy in every position, lightweight, high quality materials and easily fit back into their spacious bags. We couldn't be happier!"

- Katja & Ryan Girdler
Remove any campsite remnants before packing away 
(sand, dirt, last nights dinner etc)
If you have been in salt air or water, give it a fresh water rinse as soon as you can.
If required, use warm soapy water and a soft cloth to spot clean.
Always pack away clean and dry into the purpose designed carry bag.
Do not exceed the maximum weight capacity
In order to promote a society of product owners, rather than consumers, Stratus has developed the "Stratus Signature Guarantee" - a lifetime warranty and repair service on all products + an AFTERLIFE program.
Learn more here